Sports centre Mladenovac is a multifunctional centre, with a large hall intended for playing basketball, handball, volleyball, indoor soccer, as well as for a lot of other sports activities, such as martial arts or rhythmic gymnastics. It is important to note that in addition to high-ranking sports competitions, the centre is also used for training and recreational sports.
However, the great flaw of this facility was that the lighting solution was poorly done, which was the main reason for BUCK coming to the rescue.
The previous solution was floodlights with conventional light source Hg 400W (mercury) — 77 pieces of them, where in addition to low light levels, constant lamp failure, high electricity consumption made some of the biggest problems of SC management.
If you'd like to know more about the entire project and sports lighting solution BUCK implemented — you'll find all that out in the text below.
BUCK sports lighting solution
The new LED solution is made with 50 highly efficient reflectors REGINA 2 BP PD — 106W, mounted on hanging accessories (chain) at the height of 12m.
The positions of the floodlights are precisely defined by photometric calculation, to achieve the best illumination level for all levels of competition. On the other hand, illuminate the stands with a capacity of 1660 seats.
Achieved light level is 513lx, light uniformity 0.7, ie the required level according to the standard for sports lighting EN 12193: 2007 Light and lighting — sports lighting, class II — competition level, 500lx, light uniformity 0.7.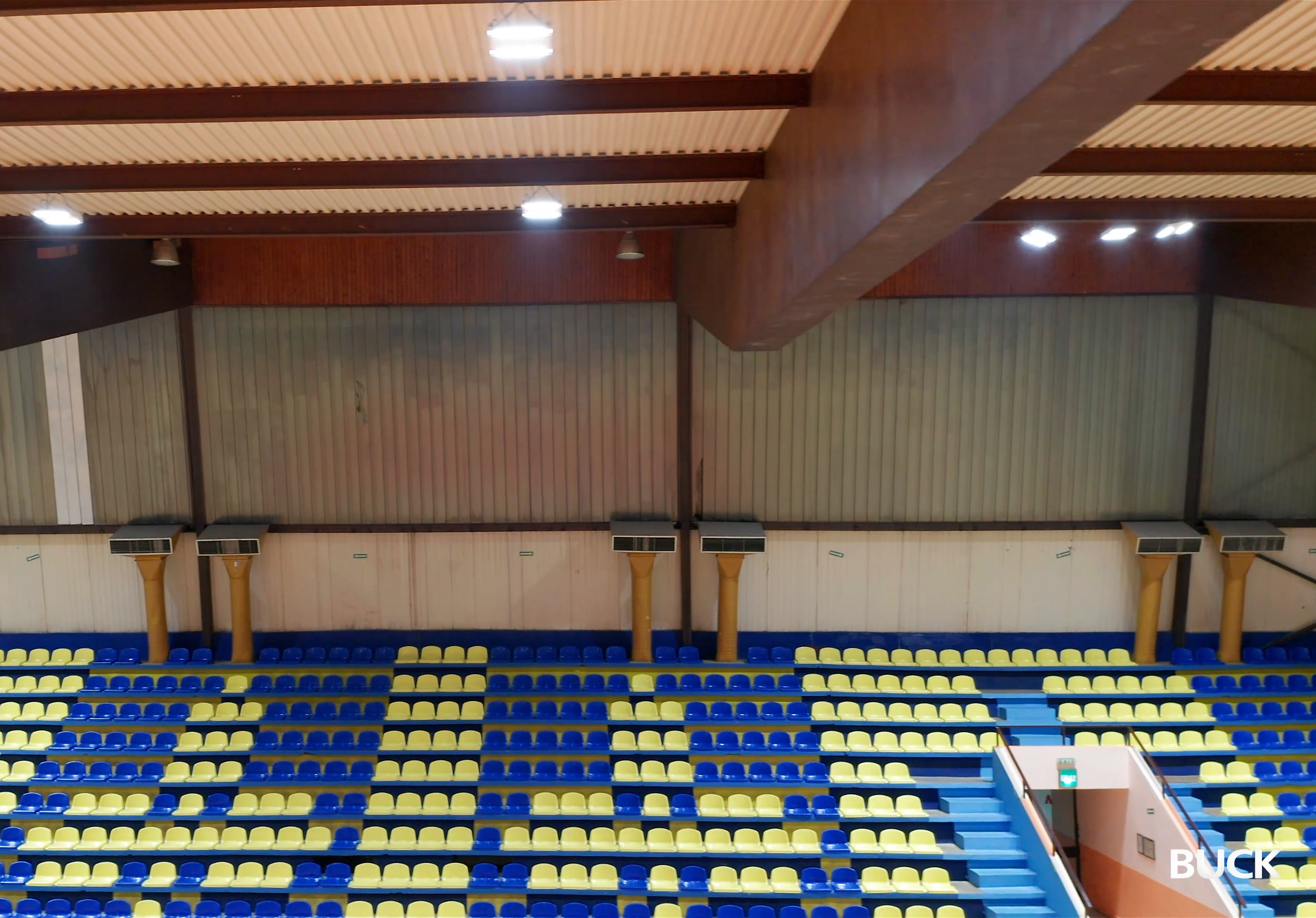 HG floodlights vs REGINA 2 BP PD high bay luminaires — comparison
Energy saving — Comparing the system of existing Hg reflectors and BUCK LED high bay luminaires REGINA 2 BP PD is in the ratio of 30,8kW (77pcs x 400W) to 5,3kW (50pcs x 106W), where the savings in electricity and power are 86% or seven times, which is an important parameter of saving both consumption and money.
Reliable operation and service life — The LED floodlights have fast ignition and achieve 100% power mode, unlike the Hg reflector where the restart interval is 7 min, where each ignition damages the light source.
Safety at work — Programmable high bay luminaire via wireless communication, with all the advantages that this technology brings: AOC, CLO, has different protection types against short circuit, overload, thermal protection, overvoltage protection.
Optics — Implemented symmetrical wide-beam optics meet the most demanding lighting criteria for professional sports halls, according to the standard «EN 12193: 2007 Light and lighting — sports lighting».
Certificate — REGINA 2 BP PD has a ball proof certificate (certificate of ball impact resistance), according to DIN EN 18032-3: 1997.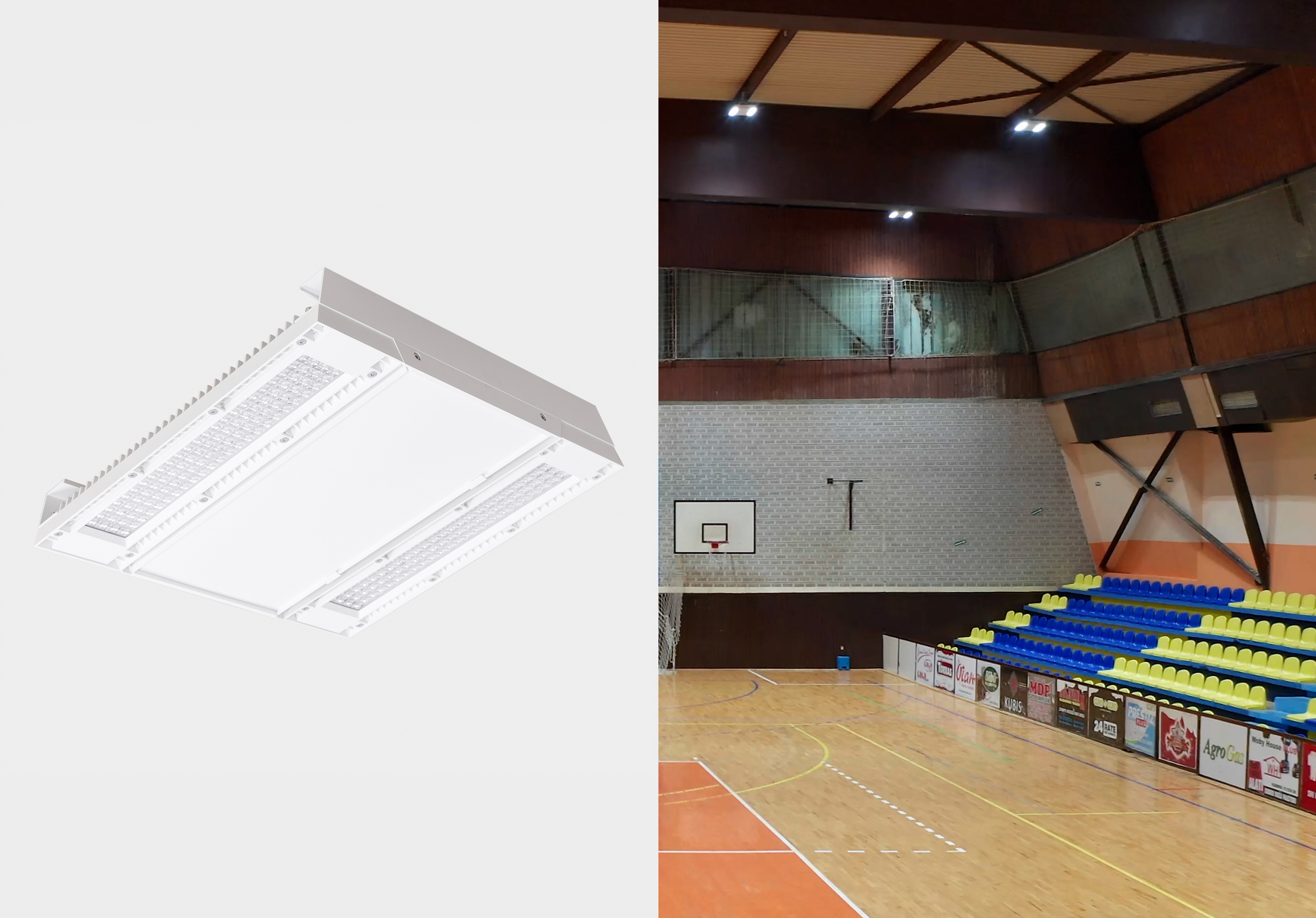 REGINA high bay LED luminaires — advantages and functionalities
REGINA 2 high bay LED luminaires are optimised for general illumination needs and for installation on big heights.
In effect, REGINA luminaires high efficacy in terms of performance, modularity, serviceability and ability to perform in the most extreme ambient conditions.
Some of the greatest advantages of these luminaires are the combination of electrical and optical efficiency of the entire system, with a different distribution of light, depending on the height of installation and application type. REGINA high bay luminaires have a significantly reduced required installed power, compared to the other luminaires with standard light sources.
Besides this, integrating REGINA luminaires in a centralised control system reduces power consumption, notably shortening the payback period.
General project benefits
REGINA 2 PD luminaires were an excellent choice for this project.
SC Mladenovac received modern LED lighting with advanced control functions and at the same time permanently relieved lamps with obsolete sources, where the main goal is a significant improvement both from the ecological aspect and from the part of saving electricity consumption.
This is also a good place to point out that the maintenance costs with BUCK lighting solutions are zero. The advantages are more than enough reason to consider BUCK lighting solutions for sports facilities.
Project data:
Name: Sport center "Mladenovac"
Location: Mladenovac (Serbia)
Purpose: Sports and entertainment
Year of completion: 2020.