Comfortable work environment, productivity of employees and easier execution of business tasks are just some of the advantages of good office lighting. The best system solutions for the lighting of office spaces include optimal glare-free visibility, as well as warm and indirect lighting in the leisure rooms.
BUCK general and office lighting is a part of the visual impression of the space, providing them with functionality and pleasant atmosphere. The type of lighting should be adapted to the purpose of the room, while the shape of the luminaires should be in accordance with the architectural and interior design. From 'invisible' linear systems to circular and square shapes, the luminaires also serve to complete the overall interior design.
Take a look at the basic benefits of office LED lighting, which segments to pay attention to when choosing the workspace lighting, and what practical solutions to use to make your office as functional as possible.
LED Office Lighting and its Fundamental Advantages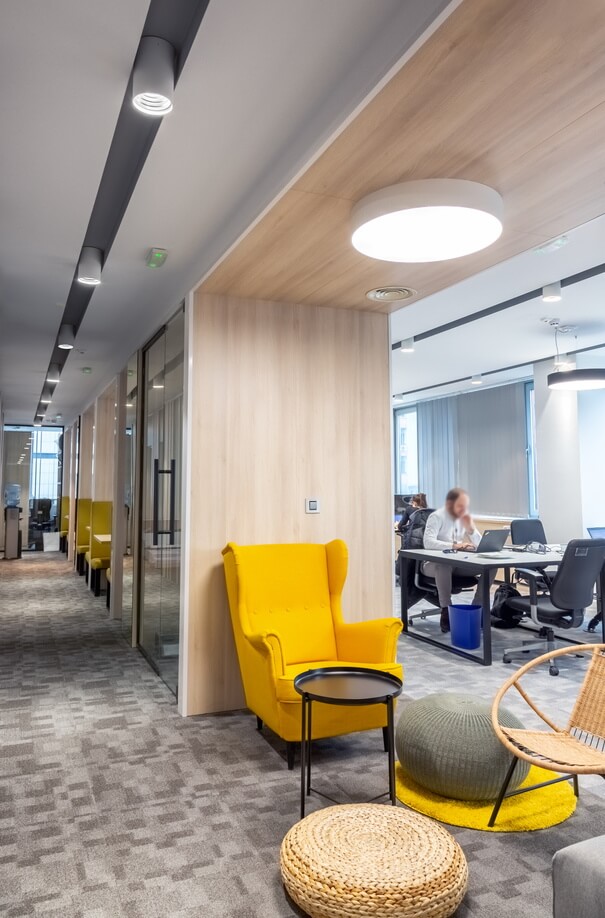 When arranging office space, it is necessary to dedicate special attention to the selection of adequate lighting. Choosing the right lighting for the office directly improves the working conditions of employees and general appearance of the room. LED lighting has recently become the most practical solution for office lighting, primarily for cost-effectiveness and environmental benefits.
Luminaires using LEDs have, in addition to energy savings, an aesthetically important attribute as their dimensions are smaller, and therefore a more refined and elegant design. By using different optical components (diffusers and lenses), it is possible to create a special light effect in each room or its part.
Lighting is known to have a significant effect on people, and therefore on employees in their work environment, as confirmed by the survey by the American Society of Interior Designers. Choosing the right office lighting can have the effect of increasing productivity, motivation, creativity and health of employees.
Office Lighting – What Are The Key Factors?
Conventional lighting and workspaces with outdated lighting systems consume electricity and money inadequately and have a negative effect on the environment. BUCK lighting performs the complete production of the desired illumination, and we present below what criteria should be considered in order to take full advantage of the LEDs in the offices.
Selection of Lighting According to the Interior Design of the Room
The choice of office lighting depends on various factors such as the layout of workplaces and furniture, the need for high colour reproduction (CRI), the need to manage light intensity and colour etc. In addition, the choice of lighting for offices is determined by the type of ceiling located in the room, as well as the amount of daylight. Recessed lighting is the most practical solution for suspended ceilings, and the choice for rooms with high ceilings are usually suspended or linear lighting systems.
Light Control – a Special Benefit for Employees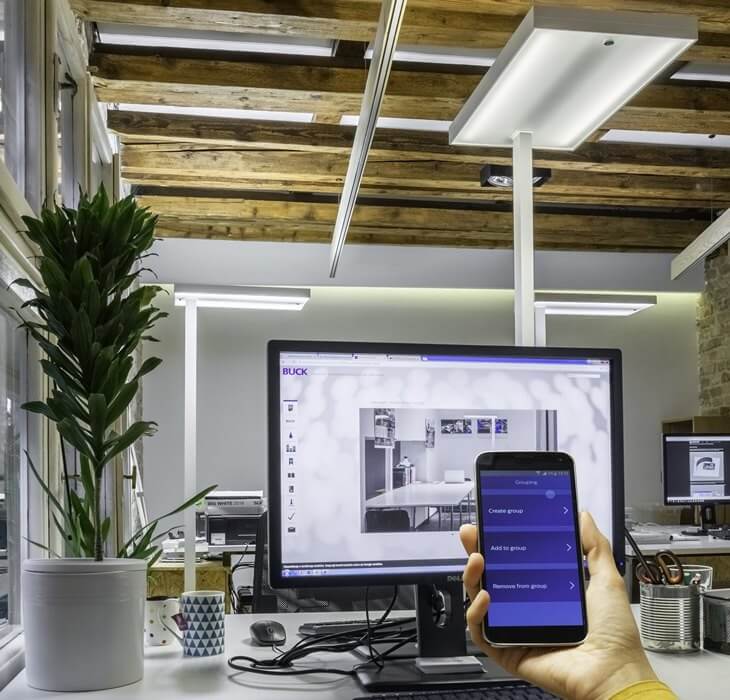 Company employees can have control over lighting since individuals have different needs and habits. By giving employees lighting control, it is possible to increase their job satisfaction, productivity and overall comfort. Considering this factor is vital especially when designing lighting in an open-office environment.
CRI – Color Reproduction Index
CRI is a term for the reproduction of colours on objects using artificial lighting compared to daylight. In other words, CRI expresses the reality of the colour rendering of the objects it illuminates. For office lighting, a CRI greater than 80 is recommended.
Light Color Temperature Is Important for Concentration
In order to achieve the desired effect of a well-lit space using direct and indirect light sources, all sources should provide an appropriate light distribution and light colour temperature. Generally, suitable light colour temperature for office space ranges from 3500 K (warm white) to 5500 K (cold white).
If you choose a luminaire with less than 3500 K, the colour of the light will be more in the yellow spectrum, while anything above 5500 K will be higher in the blue. However, warm white (2000-3000 K) can be used in areas that do not require high concentration of employees, such as bathrooms, kitchens and leisure spaces. There are also habits specific to geographical regions, so in Scandinavian countries, the standard is 3000K, while in the rest of Europe it is 4000K.
According to a study conducted by the Fraunhofer Institute, respondents said they prefer to work in light with a colour temperature between 3000 and 6000 K, while the range of 4000 to 5000 K is the most popular among employees because it helps concentration.
BUCK Office Lighting Fixtures
Well organized and equipped office space, appealing to the clients, with the necessary dose of professionalism, implies a well-balanced combination of interior design, architecture and electrical engineering. BUCK product range includes a wide range of luminaires that can meet the highest requirements when it comes to office lighting.
Depending on the architecture and design of the office space and its purpose, our company can offer high-quality surface mounted and recessed lighting for offices, as well as suspended, wall or freestanding luminaires.
Surface Mounted Luminaires in the High Ceiling Offices
One of the options for illumination of business premises is certainly the surface mounted lighting. BUCK lighting range includes premium quality luminaires such as Ring, Luna, Orien, SLIM LINE, Prima, Scala and other families.
The luminaire family LUNA is used for direct lighting of general-purpose spaces and is a practical solution for office space lighting.
The circular shape of the luminaire fits easily into any interior, and the combination of sizes in different parts of the room can contribute to the visual comfort and uniformity of style.
Recessed Luminaires in Office with Suspended Ceilings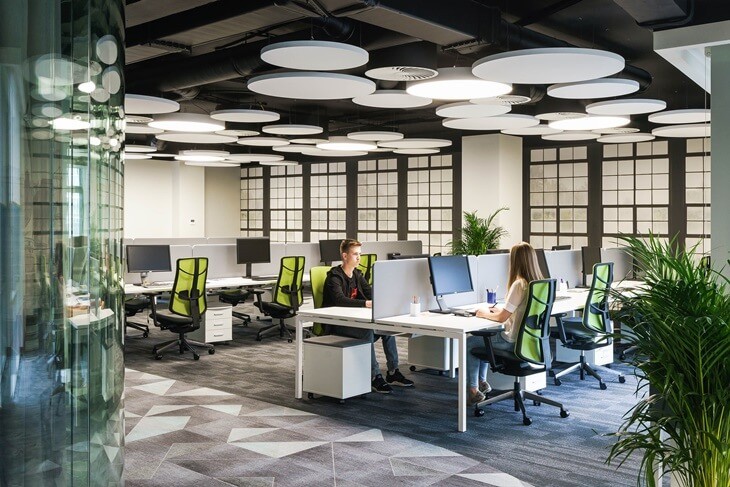 For offices with suspended ceilings, recessed luminaires are a practical, yet extremely efficient and elegant solution. In our portfolio, you can find different types of recessed LED office luminaires such as Micro, Piko, Ring, Acro, Slim Line, Insert and other families.
SLIM LINE recessed luminaires are suitable for installation in monolithic suspended ceilings. They can form long linear shapes and can be combined with their SLIM LINE / C surface mounted and suspended SLIM LINE / S customized versions to achieve optimum light uniformity and aesthetic integrity in interior solutions.
Suspended Luminaires in Offices- Practical Aspect for Voluminous Premises
Suspended luminaires are a practical solution for office spaces, especially for those with high ceilings. Our company produces top-quality luminaires of this type from Neo Spot, Slim Line, Dual, Prima, Luna, Tube, Scala and other families, and, depending on the desired organization of office space, it is up to you to choose the right one.
Dual S suspended linear luminaires are used for direct and indirect lighting, with high energy efficiency. The advantages are easy installation and maintenance without tools, as well as the flexibility of installing suspension kit on the lumianire. The indirect light component is especially comfortable for extended stay in business premises.
Office Luminaires and Freestanding Luminaires
For commercial areas where there is a need for direct lighting, it is recommended to use freestanding luminaires for direct and indirect illumination of workspaces. The dominant indirect component provides general illumination, while the direct component provides local illumination in the work area.
ARIA Smart, for example, is a unique solution when it comes to LED lighting in offices, with a lifespan of 70,000 work hours. Its mobility and quick assembly are particularly beneficial to companies renting office space, where it is considered as a part of the furniture that moves to another location without problems. In a dynamic business environment where the furniture layout is subject to change, and where large open concept offices are located, this type of lighting is extremely functional and provides personal space for employees.
The need for good office lighting, where the workers are required to have all necessary attention and concentration, has made us as manufacturers to market only the highest quality products. Many satisfied clients whose offices and business premises have BUCK office lighting are a confirmation of a good business strategy.