Clean room concept refers to the general concept of clean rooms, their definition and application in various industries. BUCK has been involved in Clean room lighting for at least two decades, so our experience in this field is vast and extensive. In this article we wanted to introduce the general concept of clean rooms, their definition, application, in order to give basic information to the Clean room first-timers.
Clean room concept overview – what is a clean room environment
In plain language, a Clean room is a very clean place within a production plant/ hospital/ laboratory, conforming to the special hygienic and other standards, where certain activities take place. These activities often include sensitive material that needs to be handled. What is a Clean room used for? Whether we are talking about measuring active substances for the pharmaceutical industry, manoeuvring biohazard material in laboratories, or production of semiconductors and microchips, there are designated spaces for special procedures, that classify as clean rooms.
The formal definition indicates that the Clean room is the environment with a limited number of microparticles of whatever origin, with classes ranging from ISO Class 9, the one being as clean as our living room, to ISO Class 1, being the cleanest possible one, with as little as 12 particles <0.3 μm per cubic meter. The table below explains the classification in more detail.
Where are cleanrooms used?
Cleanrooms are related to specialized industries, such as pharmaceutical, healthcare/ biotech, semiconductor, research/ laboratories, microchip, photovoltaic etc. -any branch where strictly controlled production/handling activities are a prerequisite to the product/ service delivery. Depending on the type of product, it is possible to have different classes of cleanliness required even within the same industry (ex: the production of infusion tubes and accessories for medical care can be different from the production of medicines/ drugs where cross-contamination of active substances is to be avoided at any cost).
Requirements of clean room environment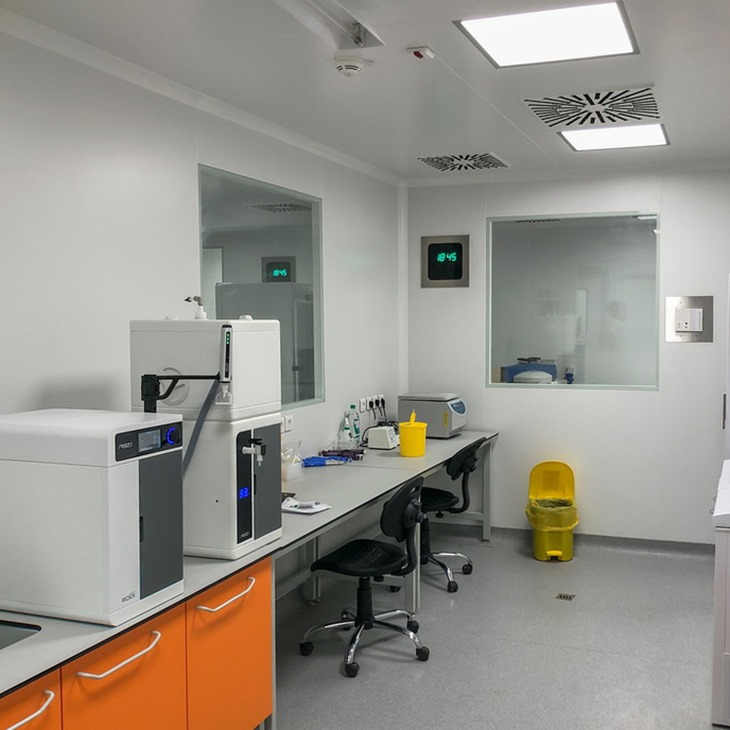 Every industry has its own specifics regarding the processing conditions. However, there are requirements they all have in common, and here are some of them.
Staff protection equipment
Sadly, thanks to the COVID 19 pandemics, we all know about the protective equipment of medical and lab staff. During the pandemic, they serve to prevent the staff from getting infected (the putting on and taking off this equipment is a task for the instrumentalists, special medical staff in charge of the instruments and hygiene), as well as from disseminating any dangerous pathogens.
In a Cleanroom environment, next to this, protective clothes and accessories are used to prevent staff from contaminating the cleanroom by skin shedding (trivia: 90% of house dust is skin shedding). The materials used are synthetic ones, resistant to wear and tear, often single-use. Even the regular office supplies, such as pens and papers, have to be specially classified and approved.
The equipment and internal surfaces in a clean room
As you have guessed, these are not isolated rooms with no furniture or equipment. It is usually the case that the equipment and processes held there require such a working environment. As a general rule, all the equipment and surfaces must have smooth, preferably polished surfaces without bolts, nuts, visible joints, any place where dust or other particles can settle without the possibility of being cleaned. Tiles on the floor or walls are therefore to be avoided, and smooth floors resistant to aggressive cleaning agents are preferred. When you see the workstation in a clean room, the predominance of stainless steel and minimalistic design is observed. For a good reason.
Clean room lighting requirements
We have covered this topic on various occasions, such as Clean room product page and brochure, so we will keep it brief this time:
Lighting in cleanrooms needs to fulfil two main requirements: provide enough light for the smooth operation of the activities, and, construction-wise, be in accordance with the strict hygienic and maintenance rules. Cleanrooms usually don't have natural lighting, so the quality of good lighting equipment is a prerequisite for their operation. Lighting also needs to be longevous, since the cleanrooms can't be used during maintenance, and need to be physically cleaned after any intervention, costing money for cleaning and recertification. This is why it is often required for luminaire maintenance to be from the top side, from outside the room, without contamination of the space below. Saving on the maintenance and post-maintenance time is one of our Clean room family features.
Clean room air conditioning
The cleanliness of Clean room space is determined by the number of particles per cubic meter. Therefore, air circulation should be under the strict control of designated professionals and systems. Airflow in clean room is provided by the systems of ventilation of clean air, with strict control of air turbulences in the space. Sometimes, the air comes in from the ceiling and goes out through the floor. Other times, there is negative pressure applied, such as when handing biohazard material, and this is done in order to keep the dangerous material from escaping. In each case, as it is with everything else, the type of material and operations dictate the technology applied.
Spaces between cleanrooms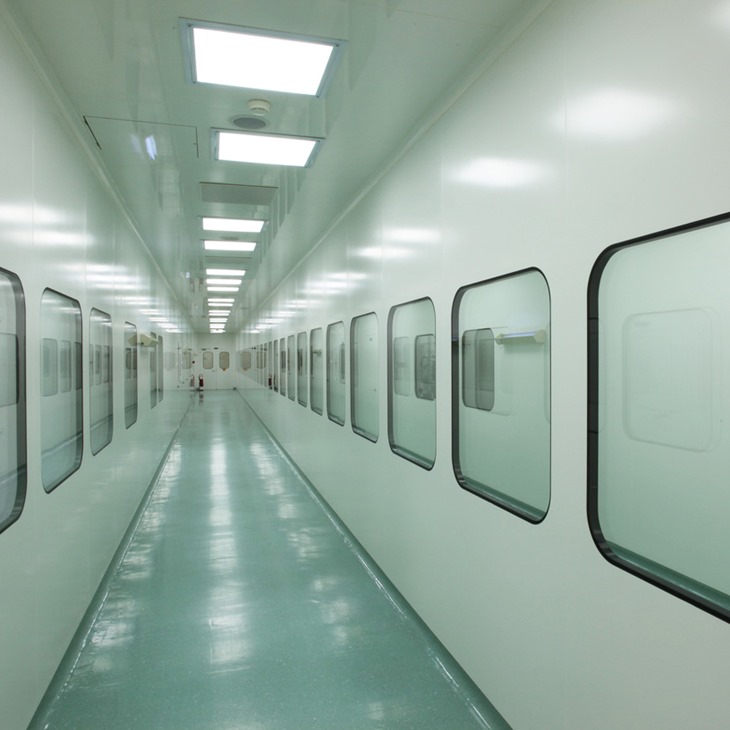 Before entering the cleanroom area, there are usually spaces with increased hygiene preparing people for such a transit. These are, actually, also clean rooms, but of inferior ISO Class (such as 8 or 9), and they are used as corridors or dressing rooms between the high-class Clean rooms.
Clean room use
Being quite costly to design, construct and maintain, it is very common that cleanrooms are used to their maximum potential, often 24/7. This particularly refers to clean rooms in production and operating theatres. So, as observed before, it is very important to have them available at all times, avoid maintenance and other setbacks that can cause a delay in production processes or in providing necessary assistance to patients.
Clean room construction
Most clients opt for turn-key solutions provided by professionals specialized in Clean rooms. They design and mount cleanroom panels, together with equipment such as ventilation, electrical and lighting installations. After all, has been installed, the solution provider performs the final check before releasing the room to be certified. The reason for the so-called Clean room integrators is that all equipment needs to be fully compliant with one another, providing the perfect fit and sealing between panels and other installations.
Clean room applications- in which industries is clean room used?
We have listed below the branches that most commonly use Clean room concept. Of course, we leave the room to emerging industries, pioneers in their fields, and you will also see some industries that have willingly increased the standards for their branches.
Industrial clean room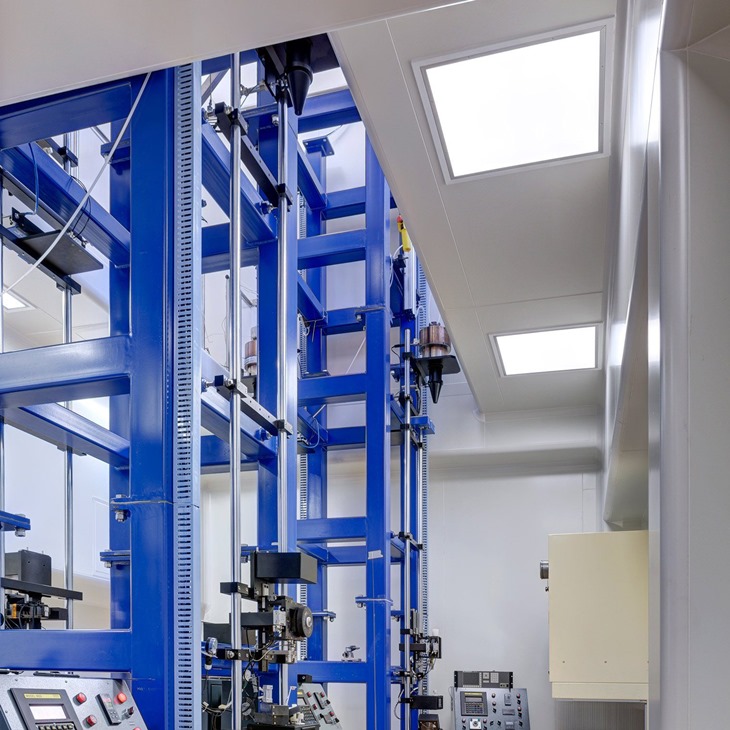 Some industries have Clean room requirements as a part of their production processes. Production of semiconductors, microchips, solar panels, rechargeable batteries, LED, LCD and OLED displays, optics, military-related appliances etc. require special production conditions. As a reference, please observe the production plant of Photon Optronics, the production plant of optical components.
Clean rooms in pharmaceutical industry
BUCK has abundant experience in this field: numerous international clients and renowned companies from the pharmaceutical industry now have BUCK's Clean room luminaires in their production facilities: Hemofarm (member of STADA Group), Novartis, Pfizer, Valeant… Clean room standards for the pharmaceutical industry is not different than Clean room application in other industries: in the pharmaceutical environment, clean rooms are spaces for laboratories as a part of the quality control procedures and Research & Development, as well as for production processes such as the production of infusions, of solid forms, granulation rooms (where active materials are being measured, with strict control of cross-contamination). Working in three shifts and occupation of the rooms 24/7 is very demanding for the staff and maintenance, as all the installed equipment must work for a maximum time without the necessity for any interruption other than cleaning. This is why the clean rooms in the pharmaceutical industry opt for the highest quality of equipment since the holdups in production are very costly.
Clean room requirements for food industry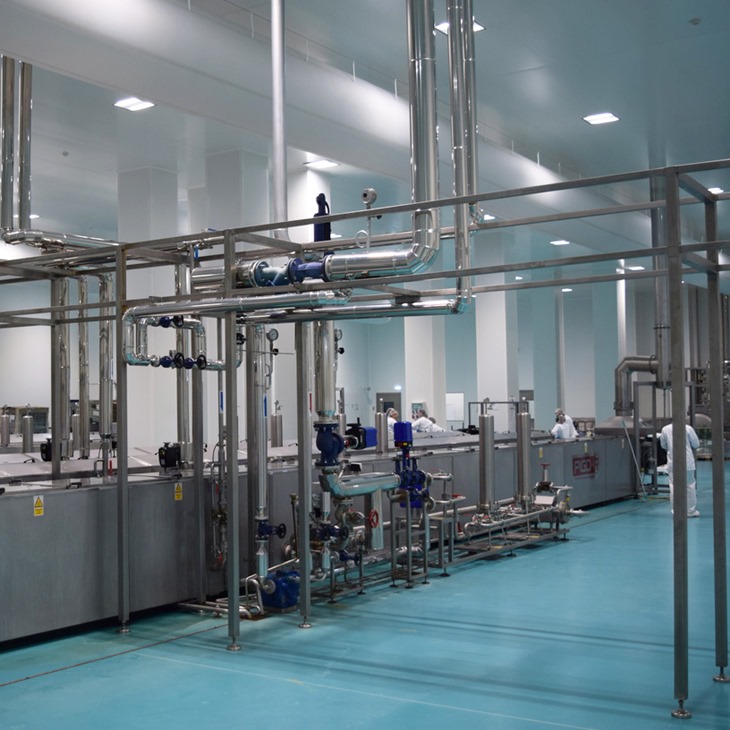 Food industry requires HACCP standards as international regulations, or compliance with specific food manipulation processes (gluten free, nut free, Halal, vegan, vegetarian, kosher). This industry doesn't require Clean room standards as a part of mandatory procedures. However, some companies voluntarily go for this solution, getting more control over the production processes and getting considerable marketing advantage. Read the case study of the Baby food factory from Serbia here.
Clean rooms in research facilities- biotech, nanotech, life sciences
Biotech, nanotech and life sciences handle very sensitive material in the research and growth phases. These can be related to research of plants (herbal genes laboratory- link), nanotech where the subject of research and production are extremely small particles, and contamination with smallest particles can endanger the whole process, and life sciences- whether we are talking about the synthetic growing of different biological material or handling highly infectious biohazard material.
One of the projects that BUCK has contributed to with our knowledge and equipment is the Fire eye laboratory- read the full case study here. It is imperative in these applications to prevent penetration of out of the room particles, in order to prevent contamination of the held material, as well as to prevent in the room particles from escaping, especially in case of dangerous, toxic or biohazard material.
Medical clean room requirements- OT and laboratories
When in medical environment, we often encounter clean rooms in operating theatres, intensive care units and laboratories. Operating theatre complex includes adjacent preparation rooms (for the medical staff and the patients), which serve as transit point from regular to sterile environment, and the room where operations take place. Operating theatre usually has one or two operating tables, with the very strict organization of work, and lighting, in this case, has to comply. High level of illumination, together with excellent visual comfort and colour rendering index are very important for operations to go as smoothly as possible. Absence of outside pathogens is very important since the patients are more exposed to infections during the operations, but also, in case of infectious diseases, it is also important that the biological and medical waste is strictly handled and goes through the designated paths/ channels.
As we have demonstrated, there are many applications of clean rooms, and many different aspects of clean room to take in consideration.
There are many professionals in this field, and we are happy that we have very good cooperation with some of them. If you need the whole clean room for your hospital/ production/ laboratory, please contact us, we will gladly recommend the best professionals. For clean room lighting, of course, we will be happy to assist.