A smart city is a vision of urban development that integrates multiple Information and Communication Technologies (ICT) and Internet Intelligent Devices (IoT), with the aim of optimizing the efficiency of city operations and services, as well as connecting with citizens. Smart cities use different types of sensors to collect data from citizens, which are then used to effectively manage resources.
This includes data collected from designated areas, that are processed and analyzed to monitor and manage traffic and transportation systems, power plants, water supply systems, waste management, information systems, schools, libraries, hospitals, as well as public lighting of cities.
Smart city technology allows city officials to communicate directly with the city officials, keep track of the city's infrastructural processes. The purpose of setting up a structure for a smart city is to improve the quality of people's lives, which is achieved by increasing the efficiency of urban services and meeting the needs of citizens.
Using sensors integrated into real-time monitoring systems, data is collected for processing and analysis. Collected information and knowledge are key to addressing all bottlenecks and optimizing occurrences in the urban environment.
The use of appropriate public lighting and LED luminaires that support these smart systems achieves a significant improvement in the urban traffic operation, increases the safety of individuals, reduces costs and achieves higher energy efficiency.
The impact of public lighting on smart cities
Street lighting is an important component of smart cities. BUCK Public Lighting has high quality lighting systems that, thanks to top-notch components, can meet a variety of requirements. All of the mentioned installations can be integrated into Smart City solutions, including presence control, daylight sensors, and other systems that facilitate and improve the flow and safety of people and vehicles.
In addition to the basic function of controlling and regulating street lighting, smart lighting can have other significant functions that encourage the creation of one smart city.
#1 Smart lighting management in traffic
Streetlights can be equipped with cameras or motion detector sensors. Technology in smart LEDs enables communication of all parts of the street lighting system. When a camera or sensor from one luminaire detects one of the road users, this information is communicated to the adjacent street light, which responds immediately and turns on or raises the lighting level so that necessary light level is always available.
#2 Public safety and security in smart cities
Smart lighting includes video and sound surveillance, as well as motion detection that allow the effective use and provision of security services in areas where special caution is needed – parking lots, garages, city streets requiring increased security, property of public value and more.
Thanks to these street light components, it is possible to monitor the situation on the field live and provide a detailed analysis of all the data collected. There is also the possibility of transmitting analytics and alerts to the appropriate institutions that should respond in accordance with the data received.
This real-time analytics includes:
● automatic start of lighting depending on the events in the field;
● economical extension of the field of vision encompassing surveillance;
● identification of license plates or persons …
#3 Smart parking becomes much easier
Smart City Public Lighting can collect real-time availability of parking spots and pass this information, via the app, to customers or parking service providers. This data facilitates the search for parking, but also allows for dynamic pricing depending on traffic conditions.
This approach significantly improves the use of parking lots and creates an even distribution of vehicles across parking lots. It reduces vehicle mileage and therefore carbon emissions while optimizing parking revenue through dynamic pricing.
The importance of public lighting for smart cities
Street lighting is a key public service provided by the authorities at local and municipal level. High-quality lighting is essential for road safety, personal safety and the creation of an urban setting. However, in many cities, public lighting installations are outdated and therefore inefficient.
Aspects provided in high-quality street lighting greatly enhance the performance of smart cities and the quality of life of citizens, and these are just some of the benefits of smart city lighting:
Using LED technology significantly reduces the city's energy consumption as well as maintenance costs;
Lighting compliance with traffic participants is improved;
Raising awareness of community processes in real-time and facilitates decision-making in city service departments;
Using intelligent, sensor-based innovations for transportation, utilities, public safety and environmental monitoring, without adding physical infrastructure.
The LED luminaires manufactured by our company can also be equipped with daylight sensors they use to learn and adjust the level of light depending on the time of day. The daylight sensors respond to the change in natural light and give the luminaires information about the amount of daylight, and with a decrease in intensity (at dusk) the luminaire is switched on to only 10-20%, gradually increasing the intensity as natural light decreases.
The programming possibilities are considerable, and at times when there is little traffic on the streets (e.g. between midnight and 5 am), the luminaires can be programmed to a minimum, and again monitor the intensity of the natural light intensification to complete shutdown. This makes day-to- night switching is also energy efficient and more pleasant for traffic participants.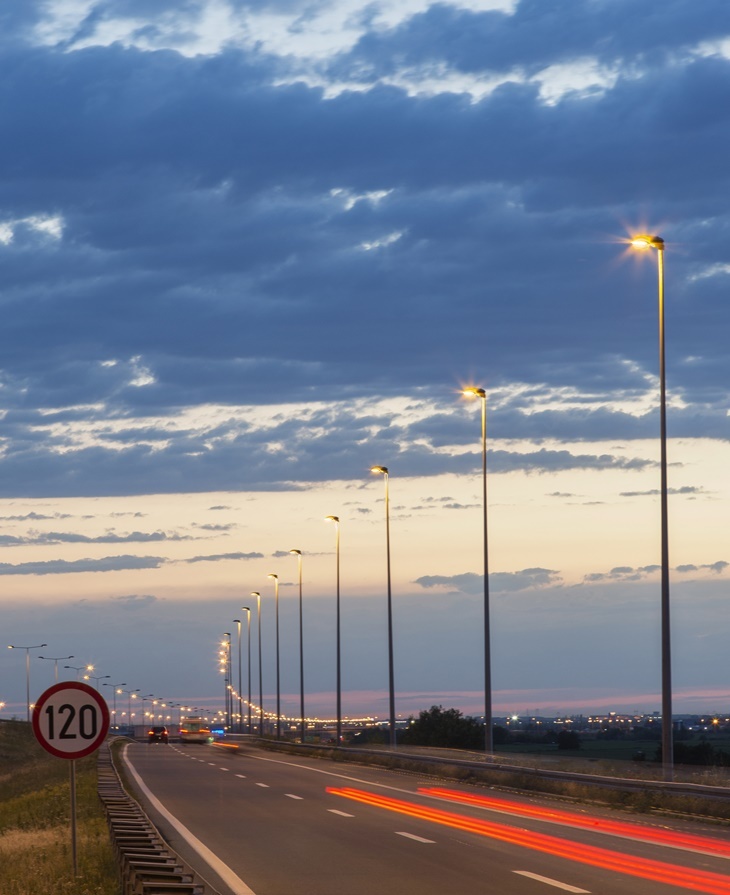 Lighting applications in smart cities around the world
Numerous cities in Europe, Asia and North America have already established the smart city concept, while many others are making detailed plans and analysis to get to that stage of development.
City of Eindhoven and ideas for implementing smart luminaries
One of those cities is the Dutch city of Eindhoven, which has set smart public lighting as its primary strategic goal. According to city officials, technologies such as connected street lighting combined with other smart systems, sensors and intelligent information can transform lighting infrastructure into an informational highway that will provide numerous other amenities and services for residents.
For example, a city may decide to test the latest technology when it comes to lighting smart cities that allow lighting to direct emergency services to incidents or people in need. On the other hand, smart sensors in any LED luminaire can be used to adjust lighting to weather conditions or to provide
on-demand light to improve the safety of residents at night.
Kansas City makes great use of smart street lighting
One of the cities that is already taking advantage of all the opportunities public lighting has to offer is Kansas City, Kansas. In this city, streetlights, with sensors connected to Wi-Fi, help create a live city map that shows citizens the exact location of public transportation in the city, the speed of traffic flow, and available parking spaces. Increasing population in cities often causes problems in social and organizational spheres, which complicates the management of urban structures, impedes traffic, leads to scarcity of resources,
threatens the environment and the health of residents themselves.
The main goal of implementing smart lighting systems in cities is to try to contribute to solving these problems. With its Vihor and Mistral products for public lighting, Company BUCK can fully meet the requirements of the Smart City project and create a well-lit, smart and safe environment.